Modicon M241 Micro PLC
The Modicon M241 is a Micro PLC made to control more advanced automation for complex and modular machines. Programs with SoMachine software. Uses TM3 expansion I/O.
The Modicon M241 is a Micro PLC designed to handle more advanced machine automation with a mixture of hardwired I/O and automation bus/communications with devices such as drives, motion, remote I/O and HMIs. The M241 has generous offer of Serial, Ethernet and CANopen communication ports in addition to USB and SD provisions. It's available with either 24 or 40 I/O points and is expandable with TM3 I/O modules to handle up to a few hundred I/O points.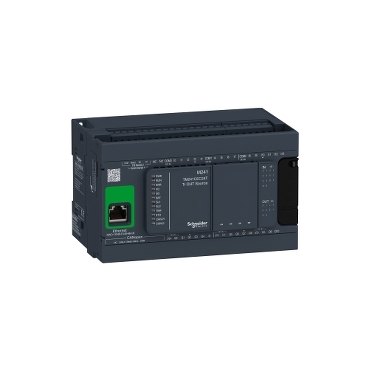 SoMachine is the OEM solution software for developing, configuring and commissioning the entire machine in a single software environment, including logic, motion control, HMI and related network automation functions.
SoMachine allows you to program and commission all the elements in Schneider Electric's Flexible and Scalable Control platform, the comprehensive solution-oriented offer for OEMs, which helps you achieve the most optimized control solution for each machine's requirements.