Modicon M221 Nano PLC
The Modicon M221 is a Nano PLC made to control basic automation for machines. Programs with SoMachine Basic software. Uses TM3 expansion I/O.
Achieve benchmark performance while increasing profitability with the Modicon M221 Programmable Logic Controller (PLC). Available in both standard and book formats, the Modicon M221 PLC offers best-in-class performance while requiring minimal installation and offering instant access to maintenance and machine visualization. The M221 programs with SoMachine Basic which can be downloaded free of charge. It's also included with the full version of SoMachine software.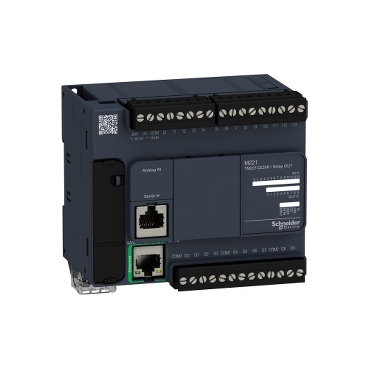 SoMachine is the OEM solution software for developing, configuring and commissioning the entire machine in a single software environment, including logic, motion control, HMI and related network automation functions.
SoMachine allows you to program and commission all the elements in Schneider Electric's Flexible and Scalable Control platform, the comprehensive solution-oriented offer for OEMs, which helps you achieve the most optimized control solution for each machine's requirements.