Modicon TM5 Expansion I/O for M258 and LMC058 Controllers
IP20 modular I/O system, for complex machines or installations (up to 2400 I/Os).
The TM5 system is especially well suited for very large or modular machines due to the large distance and I/O counts possible. This offers unmatched flexibility and optimization of your machine automation.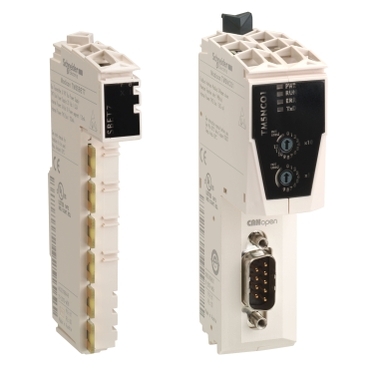 Features

Flexible and scalable I/O configuration


Distributed I/Os via the CANopen interface module, or local or remote expansion via the local TM5 expansion bus on Modicon M258 and Modicon LMC058 controllers (PLC & PAC)
Wide range of I/O expansion modules: digital I/O, analog, expert, non-functioning dummy, remote I/O modules…

Simplified maintenance & installation


Embedded diagnostics for local and distant supervision
Hot swapping of I/O modules
Cabling simplicity: spring terminals, removable terminal blocks

Save engineering time


Fully compatible with SoMachine software
Certified FDT/DTM technology for all compatible automation software systems (on CANopen)

The Modicon TM5 (IP20) and Modicon TM7 (IP67) I/O systems enhance the "Flexible Machine Control" concept:


One software environment:-

SoMachine

Among the multiple control platforms, these IO systems are the best companions for:

Benefits

100% flexibility and optimization of your machines

This IP20 modular IO system provides a flexible and scalable configuration of expansions or distributed I/O islands by direct connection with the Modicon controllers (TM5 bus) or via CANopen bus/Sercos bus for Modicon and PacDrive 3 controllers as well.
Characterized by easy cabling and maintenance, the modular IO system offers a wide variety of modules that enable the user to exactly meet their desired configuration for reducing costs and simplification.
The fully integrated safe communication over Sercos for PacDrive 3 based configurations provides a complete safety solution with programmable safe logic controller and distributed I/Os. Less cabling/installation efforts, better diagnostics and reduced machine down time with use of safe drives during maintenance operations are some of the main benefits

Applications

Modicon TM5 meet the typical requirements of production and packaging machinery, as well as material handling and assembly systems.