U-Series Three Phase Recloser
This is a legacy product
This Product is Obsolete
Lightweight, solid dielectric with vacuum arc interruption solution for medium voltage electrical distribution networks. Provides the latest protection technology in a highly reliable, low-maintenance Automatic Circuit Recloser (ACR).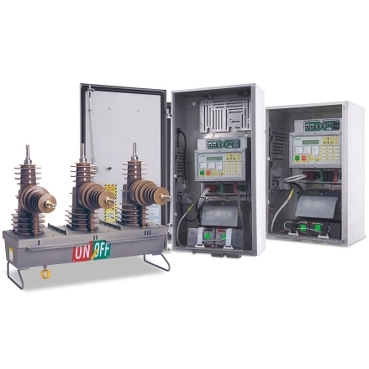 Features

The U-Series 3 phase pole mounted auto recloser (or circuit breaker) uses the latest technology in solid dielectric epoxies, vacuum interruption, and other materials. This device does not use any gas or oil insulation. Instead, cyclo-aliphatic epoxy bushings are used to insulate the vacuum interrupters. This type of construction results in a more lightweight unit. The design has been optimized for automation, remote control, and monitoring applications and has built in current and voltage measurement for data logging.

Rated voltages: 15kV and 27kV
Rated short-circuit current: up to 12kA
Rated load current: up to 630A
316 grade stainless steel tank
Solid epoxy dielectric
Vacuum arc interruption
I-terminal voltage measurement
Optional X-terminal voltage measurement
Mechanical lockout
3-phase current measurement
10,000 operations

Benefits

Improve SAIDI and SAIFI indices by automatically reducing outages
Defer capital works by offering features that reduce network stresses
Easily integrated into Smart Grid applications with advanced capabilities such as Loop Automation and Automatic Changeover
Flexible applications from complex substation or standalone pole mounted through powerful automation and communication features

Applications

The U-Series 3 phase recloser is custom built for medium voltage overhead network protection. It can be installed as a substation circuit breaker or pole-mounted recloser, whatever the application calls for. With integrated automation schemes such as loop automation and automatic changeover included with the control package, the U-series recloser can be implemented in numerous installations. Some other uses for the U-series recloser are where generator control, smart grid, or feeder automation are priorities.